Downtown
Grand Central Market
Opening Hours: 8am – 10pm (7 days a week)
Location: 317 S Broadway, Los Angeles, CA 90013
Right in the centre of downtown, you will find what is known as LA's culinary centrepiece and cultural hub, The Grand Central Market. Having been there myself, I can assure you that it gives up to the name. there is so much for you to see around the
For those who love a mixture of history and food, this is the place to visit. This market has been around for well over 100 years, and located inside its doors are over 30 vendors for you to dine and drink with.
Angels Flight Railway
Opening Hours: 6:45am – 10pm (7 Days a week) including holidays.
Location: Upper Entrance – 350 South Grand Avenue, Los Angeles 90071. Lower Entrance is located at 351 South Hill Street, Los Angeles 90013. Just across from the Grand Central Market.
The Angels Flight Railway is a funicular created back in the early 1900s and is still taking passengers today. The funicular takes passengers on a short ride between Hill Street and Grand Avenue on Bunker Hill.
Because of its location, it is easy to go on this funicular and then go and explore the Grand Central Market. Easy way to knock off two attractions in an extremely short amount of time.
The Last Bookstore
Opening Hours: 11am – 8pm (7 days a week)
Location: 453 S Spring St – Ground Floor Los Angeles, CA 90013
The Last Bookstore is California's largest used and new book and record store. They are currently in their third incarnation, beginning originally in 2005 in a downtown Los Angeles loft.
During the revitalization of downtown LA, they grew quickly to their current 22,000 sq. ft. space in the Spring Arts Tower.
This is the perfect place for anyone who loves to be in amongst books. There is something for each and every person. It is amazing to walk around the store and look at everything they have to offer.
Olvera Street (Latin Quarter)
Olvera Street has been known as the birthplace of Los Angeles. It is a Mexican Marketplace that gives off the impression of the old Los Angles. The street is a block-long narrow, tree-shaded, brick-lined market with old structures, painted stalls, street vendors, cafes, restaurants, and gift shops. Scattered in there are several historical museums which are worth visit too. Olvera Street was created in 1930 to be able to preserve and present the customs and trades of early California.
Olvera Street is a historic street in downtown Los Angeles and El Pueblo de Los Angeles Historical Monument. The area around the 19th-century Los Angeles Plaza has been the city's main square from the early 1820s. This was when California was still a part of Mexico. The whole area was considered the centre of community life until everything began to expand in the 1870s.
Union Station
Los Angeles Union Station (LAUS) is the main railway station in Los Angeles, California. It is also the largest railroad passenger terminal in the Western United States. It opened in May 1939 as the Los Angeles Union Passenger Terminal. At the time of its opening, it replaced the La Grande Station and Central Station.
The station has been come to be known as one of the last great stations of the united states. I am inclined to agree with them. Just walking inside, you can feel the history that the station has to offer. You can almost hear all the people who have ever walked those halls.
La Brea Tar Pits
Opening Hours: 9:30am – 5pm (7 days a week), except Independence Day (July 4). Thanksgiving Day (fourth Thursday of November). Christmas Day (December 25). New Year's Day (January 1)
Location: 5801 Wilshire Blvd, Los Angeles, CA 90036.
The tar pits are located right in the heart of LA. It can be considered one of the world's best gateways into the Ice Age. The asphalt seeps at La Brea Tar Pits are the only active urban fossil dig sites in the world.
When you are outside, you can watch excavators carve fossils out of the asphalt. Who wouldn't want to see active excavations during your visit? It's something that you don't usually get to see. Every day they can uncover plants and animals going back the last 50,000 years.
Inside the George C. Page Museum at the La Brea Tar Pits, you can see the staff prepare the discoveries in the see-through Fossil Lab. This museum was established in 1977 to house a majority of the fossils and plants that have been pulled out of the tar pits.
The exhibitions that you can see are the sabre-toothed cats, mammoths, dire wolves, and mastodons. You can see the tiny but scientifically significant microfossils of insects, plants, mammals, and reptiles.
The Original Farmers Market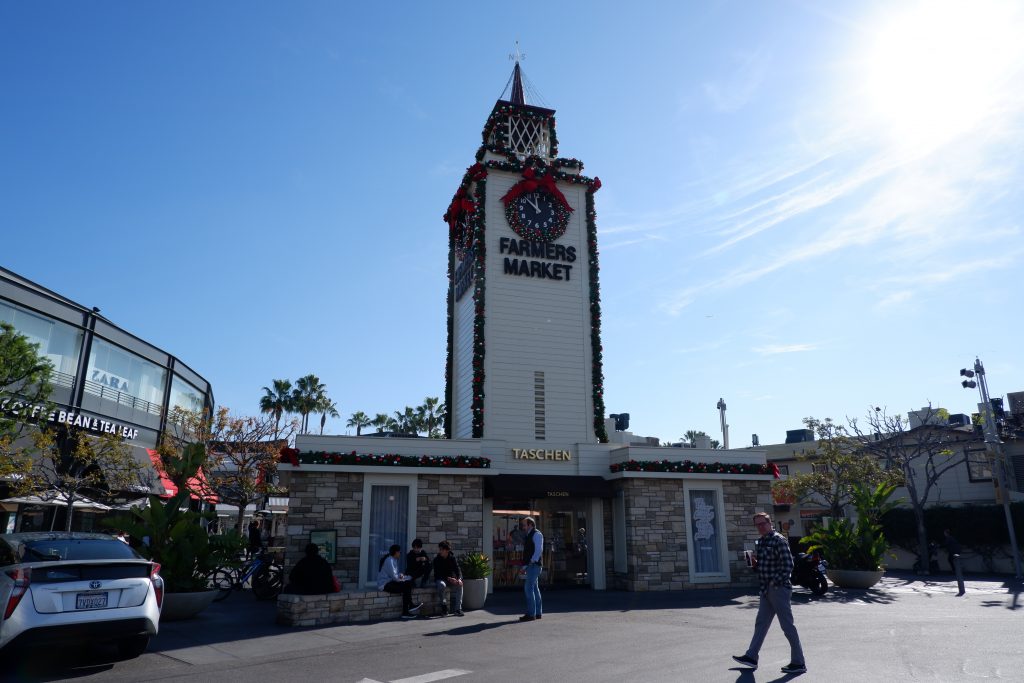 Opening Hours: 10am – 6pm (7 Days a week)
Location: 6333 W 3rd St, Los Angeles, CA 90036.
The Original Farmers Market is an area of food stalls, sit-down eateries, prepared food vendors, and produce markets in Los Angeles, California, at the corner of Fairfax Avenue and 3rd Street. The best thing about the market is that it is different from your regular farmer's markets which are only open at certain intervals. This one is permanently open seven days a week.
The market originally opened in July of 1934 and has now become a Los Angeles landmark and tourist attraction. The Original Farmers Market features more than 100 vendors, including ready-to-eat foods, grocers, and even tourist shops.
The Grove
Opening Hours: Monday – Thursday: 10am – 8pm
Friday & Saturday: 10am – 9pm
Sunday: 11am – 8pm
Location: 189 The Grove Drive, Los Angeles, CA 90036
The Grove is a retail and entertainment complex in Los Angeles, located on parts of the historic Farmers Market. The two locations are only a short walk from one another, and both should be viewed together to add to the experience.
The Grove is filled with high-end stores to shop through to your heart's content. But if you are not in the shopping kind of mood, just experiencing the atmosphere is worth your time.
Two experiences worth seeing other than the shopping would have to bet the Dancing Fountain and the Trolley Car. The Dancing Fountain is located in the centre of the Grove; the water spurts from the fountain often dance to the tunes of a wide range of songs. It is a nice visual thing to experience. The Trolley Car takes you from one end of the strip up to the other in a trolley based on a 1950's Boston trolley car.
If you're interested in seeing the places in person, why not click the links below to watch my videos on Downtown LA
Museums
Los Angeles County Museum of Art (LACMA)
Location: 5905 Wilshire Blvd, Los Angeles, CA 90036
The Los Angeles County Museum of Art, also known as LACMA, was founded in 1961. At this time, it split from the Los Angeles Museum of History, Science and Art.
LACMA is considered the largest art museum in the western United States. It holds more than 150,000 works. These works spanning the entire history of art from ancient times up to the present.
It is well known for one of its artworks out outside. The Urban Light. The artwork which Chris Burden created in 2008 consists of 202 restored street lamps. All of which are from the 1920s and 1930s.
Natural History Museum of Los Angeles County (NHM)
Location: 900 Exposition Blvd., Los Angeles, CA 90007
The Natural History Museum of Los Angeles County (LHM) protect and share more than 35 million specimens and artifacts. It is considered the largest natural and cultural history collection in the western United States.
LHM is one of Los Angeles oldest cultural institutions. Inside the museum, they feature a variety of exhibits. The best-known ones are the Age of Mammals, the Dinosaur Hall, the Gem and Mineral Hall. But they also feature exhibits about LA. These are Becoming Los Angeles, the outdoor Nature Gardens, and the Nature Lab look at the relationship between environment and people, past and present, in L.A.
California Science Centre
Location: 700 Exposition Park Drive, Los Angeles, CA 90037
The California Science Centre (CSC) is an amazing place for learning anything about science. I would recommend it to anyone who visits the city. The CSC website states:
The California Science Center dates to the first State Exposition Building, which opened in 1912 and displayed simple, agriculturally-based natural resources and industrial products from across the state. After World War II, technology-based businesses began to grow, so the State Exposition Building was remodelled to show visitors the role of science and technology in everyday life. The building was renamed the California Museum of Science and Industry in 1951 to reflect this new objective better. In 1998, the museum transformed into a new kind of public institution for science learning, the California Science Center.

California Science Centre Website
My favourite part of the building was able to see the decommissioned rocket. The space shuttle Endeavour was a sight to behold. I couldn't take my eyes off of it. The sheer size of it was breathtaking.
Hollywood
Hollywood walk of fame
The Hollywood Walk of Fame comprises more than 2,690 five-pointed terrazzo and brass stars embedded in the sidewalks along 15 blocks of Hollywood Boulevard and three blocks of Vine Street in Hollywood, California. The stars are located along both sides of each of these streets.
Some of my personal favourite stars are Ryan Reynolds, Ian McKellen, Peter Jackson, Harrison Ford and Stan Lee, to name a few.
But I would say that it is amazing to walk along and find your favourite star to take a photo with. Because it is a free attraction, I would highly recommend it.
The whole street can be quite busy with street performers and other pedestrians. But it is always an interesting sight to see people dressed up in the costumes of your favourite characters. You are sure to find your favourite somewhere along the strip.
Madame Tussauds
Location: 6933 Hollywood Blvd, Hollywood, CA 90028
Opening Hours: Thursday – Monday 11am-6pm
If you are walking down the Hollywood walk of shame, be sure to check out Madame Tussauds wax museum. It is located approximately in the middle of the walk of fame. The museum is filled with three levels of celebrity wax figures. You are able to take the whole museum at your own pace. The place is filled with stars and celebrities from a range of time periods you are likely to find your favourite one there.
When I visited, it took us what felt like 2 hours to walk through the entire area. Only because we stopped taking photos with the vast majority of the wax figures, we even tried to recreate some of the poses that they were positioned in, which was a lot of fun.
To end the tour, why not watch the Marvel 4D adventure. It is a worthwhile experience and a good way to end the tour through the museum.
Warner Bros Studio Tour
Location: 3400 Warner Blvd, Burbank, CA 91505
For both TV and movie fans alike, there is nothing better than the Warner Bros Studio Tour. You get a glimpse of how the behind the scenes of Hollywood works. The tour itself lasts for 3 hours, 2 of which is guided by a tour operator, and the other hour is self-guided.
You are able to get a unique look at all of the different sound studios that they have to offer, and if you are lucky, you might even be able to get a look inside one of them. But sadly, photos are not allowed within those buildings. I wouldn't want to spoil any of the filming.
There are several things you can expect to find on your visit: The DC world exhibit. An exhibit about Harry Potter and the Wizarding World. A garage filled with all of Batman's Batmobiles. A section called Stage 48: Script to Screen, where you get to see the process things went through from being written to being filmed. Lastly, my two personal favourites are the Friends Central Perk set and The Big Bang Theory Set.
As you can see, there are many things for everyone to see and experience and it is well worth your time if you are in any way into film or tv then it would be a good idea to come and visit.
Griffith Observatory
Opening Hours: Weekdays (Tuesday – Friday)
Open 12:00 noon – 10:00 p.m.
Weekends (Saturday – Sunday)
Open 10:00 a.m. – 10:00 p.m.
Closed on Mondays
Location: 2800 E Observatory Rd, Los Angeles, CA 90027
Griffith Observatory is located on the southern slope of Mount Hollywood within Griffith Park. It sits at 1,134 feet above sea level and is visible from many parts of the Los Angeles basin. The Observatory also happens to be the best vantage point for observing the world-famous Hollywood Sign. Set up around the Observatory are several public viewing telescopes with views of greater Los Angeles.
Griffith Observatory is a unique hybrid of public observatory, planetarium, and exhibition space. With the entry into the building being free. Inside the building, there are several exhibits for you to see. The first one you will see is the Keck Central Rotunda, located in the nexus of the observatory. The Wilder Hall of the Eye illustrates the nature and progress of human observation of the sky and the tools used for that exploration. Ahmanson Hall of the Sky – This exhibit features the sun and moon and all the information surrounding these two celestial bodies. Cosmic Connection – This exhibit features nearly 2,200 pieces of celestial jewellery form the Observatory timeline. Edge of Space – The mezzanine overlooking the Richard and Lois Gunther Depths of Space exhibit gallery. Lastly, Gunther Depths of Space – This exhibit features all of our current understanding of the universe.
If you have the time while you are at the observatory, it is worth checking out the surrounding park. There are many different walking tracks that you can take. Ranging from easy to hard. so you can pick whatever you like. Otherwise, you could have a picnic or something of that sort on the lawn out in front of the observatory.
Theme Parks
Los Angeles is home to a large collection of theme parks, and each one of them is just as fun as the next.
Disneyland and California Adventure Park
Opening Hours: Disneyland is open 7 days a week (8am – 10pm). California Adventure Park is open 7 days a week (8am – 9pm).
Location: 1313 Disneyland Dr, Anaheim, CA 92802.
Disneyland first opened back in 1955 on July 17th and since then has become one of the best-known theme parks around the world. With millions of people from everywhere coming to explore each of the park's areas. The park is divided up into a variety of sections, each boasting its own themed rides and attractions to entertain each guest. The areas are as follows: Main Street, U.S.A., Adventureland, Frontierland, New Orleans Square, Critter Country, Fantasyland, Mickey's Toontown, Tomorrowland and last but certainly not least, Star Wars: Galaxy's Edge.
Disney's California Adventure Park opened on February 8, 2001, and has continually grown since then with its ever-expanding themed areas. Pixar Pier, Avengers Campus and Cars Land are just a few of the big areas this theme park has to offer. In each of these areas are the corresponding characters and rides to go with each of the themes.
Both of these theme parks can go together because they are owned by the same company and are just a walk away from each other. To fully experience both of these theme parks, I would advise you that you either stay close to the parks or at the parks themselves. This is so that you are able to spend as much time at the parks as possible and be able to miss some of the morning rush of people. But I would also recommend spending a few days between the two parks just due to their sheer size and the amount of things there is to do.
Universal Studios
Opening Hours: Monday – Friday: 9am – 8pm
Saturday: 8am – 10pm
Sunday: 9am – 9pm
Location: 100 Universal City Plaza, Universal City, CA 91608.
Universal Studios Hollywood is both a working film studio and theme park. It is one of the oldest and most famous Hollywood film studios that are still in use. This makes it a definite must-see on your trip through the Hollywood area.
The park is split into the upper and lower lots due to its location in the mountains. But each area is easily accessible via the escalators they have on offer.
One of the best attractions you are able to ride on is the Universal Studios tour. You ride around on a large buggy like bus, and you are taken through each of the different filming areas. You get to see many of the places where they filmed things in the past and some of the places they intend to use in the future.
Another one of its more famous attractions is The Wizarding World of Harry Potter. It is a fully involved area that is all completely aimed towards Harry Potter. You are able to experience any Harry Potter that you can think of. So for any Potterheads out there, this is the place to go.
Beaches
Santa Monica
Location: 200 Santa Monica Pier, Santa Monica, CA 90401.
Santa Monica is located just west of Downtown Los Angeles. It would take you about 25 minutes to drive to the beach from the centre of downtown LA.
Santa Monica beach is an iconic example of the famed Southern California beaches. If you have ever seen photos of the coastline, this beach would surely be featured among them. Few Los Angeles beaches offer both the large expanses of beach, bike trails and are accompanied by nearby activities.
Santa Monica is a popular tourist destination to visit year-round due to its moderate climate and location within Southern California. It would be best to do your research ahead of time to ensure that you get the best kind of weather for your experience.
The biggest attraction located in the 3.5 kilometres stretch of beach is the Santa Monica Pier. The Santa Monica Pier opened up on the 9th of September, 1909. It is a large double-jointed pier at the foot of Colorado Avenue. It contains a small amusement park, concession stands, and areas for views and fishing.
Venice Beach
Location: Venice Beach, Los Angeles, CA.
Abutting Santa Monica's south side (and back in L.A. proper) is the area known as Venice. Venice's beach is amongst the beach areas that LA is famous for. This one is often featured in both tv shows and movies.
Venice Beach is famous the world over for being the playground by the sea for Southern Californians. It is especially well known for its eclectic oceanfront boardwalk. The Boardwalk is the site of funky shops, street performers and colourful murals. There's also a skate park and Muscle Beach outdoor gym.
Huntington Beach
Location: Huntington Beach, CA 92648.
Huntington City Beach offers various amenities such as volleyball courts, bonfire pits, and the iconic Huntington Beach Pier spanning 1,850 feet in length. The pier sits in the heart of Huntington Beach and allows visitors and locals alike to experience the breathtaking views amidst the sounds of crashing waves and the ocean breeze. It offers perfect views of the entire beach and the coastline in both directions. The beach itself is open from 5am to 10pm each day.