This was the best way that I could think to spend my birthday. Given the year that we all just had, I wanted to be able to spend my birthday in the most normal way possible. Luckily for me, I was able to spend four days in Melbourne. My girlfriend and I decided to spend this time acting like tourists.
Day 1
Our first day was spent venturing into the city. We had decided the best way to get there was by catching the train in. It meant we didn't have to pay for any parking while we were there. Trying to find parking in the city would have been an effort in itself. Then paying on top of that would have been too costly. Besides everything we wanted to see and do was within reach from the city.
After settling into the hotel and making ourselves at home, we got ready to do our first activity. It was decided that because wed spent a lot of time travelling into the city, we would venture down to the Docklands precinct and adventure around there.
The first activity was called Imaginaria. Located right underneath the Melbourne Star was the pop up immersive experience. It was an hour-long walk-through experience. The idea is that imagination and technology collide to create a visually stunning audio-visual play experience. It was a fascinating walk through the entire thing.
We decided against going up on the Star because of the weather but decided to see a movie at Hoyts instead. We saw Wonder Woman 1984. Personally, I would have to say that it was far better than the first one.
To finish off the night we went to the Archie Brothers arcade just below the cinema. We spent the next hours playing arcade games and grabbing a drink from the bar. It is I didn't know existed but would definitely go back to.
All in all, this was an amazing way to start the first night of my time away for my birthday.
Day 2
The weather today was perfect for our trip to the zoo. We had planned it amazingly. It was surprising that the weather forecast actually held out. It was a nice overcast day, not too warm and not too cold.
We caught the train in because it was the easiest from where we were staying. I believe it was the first time I had ever caught the train to the zoo because my family and I have always driven in.
We had a goal to try and see all of the animals on our day trip. It was an ambitious plan, seeing we didn't want to spend the entire day there, but we thought it was doable.
Starting from the back, we went around and visited the Australian animal's section because who doesn't love seeing those cute Aussie animals. Many of them were relaxing and laying about. But that made it a lot easier to see them.
Just past the Australian section was the enclosure for the Giraffes and Zebras. There wasn't much going on there but the feeding tour we just managed to miss out on buying tickets. But there is always next time. Id love to be able to get up close and personal with the Giraffes.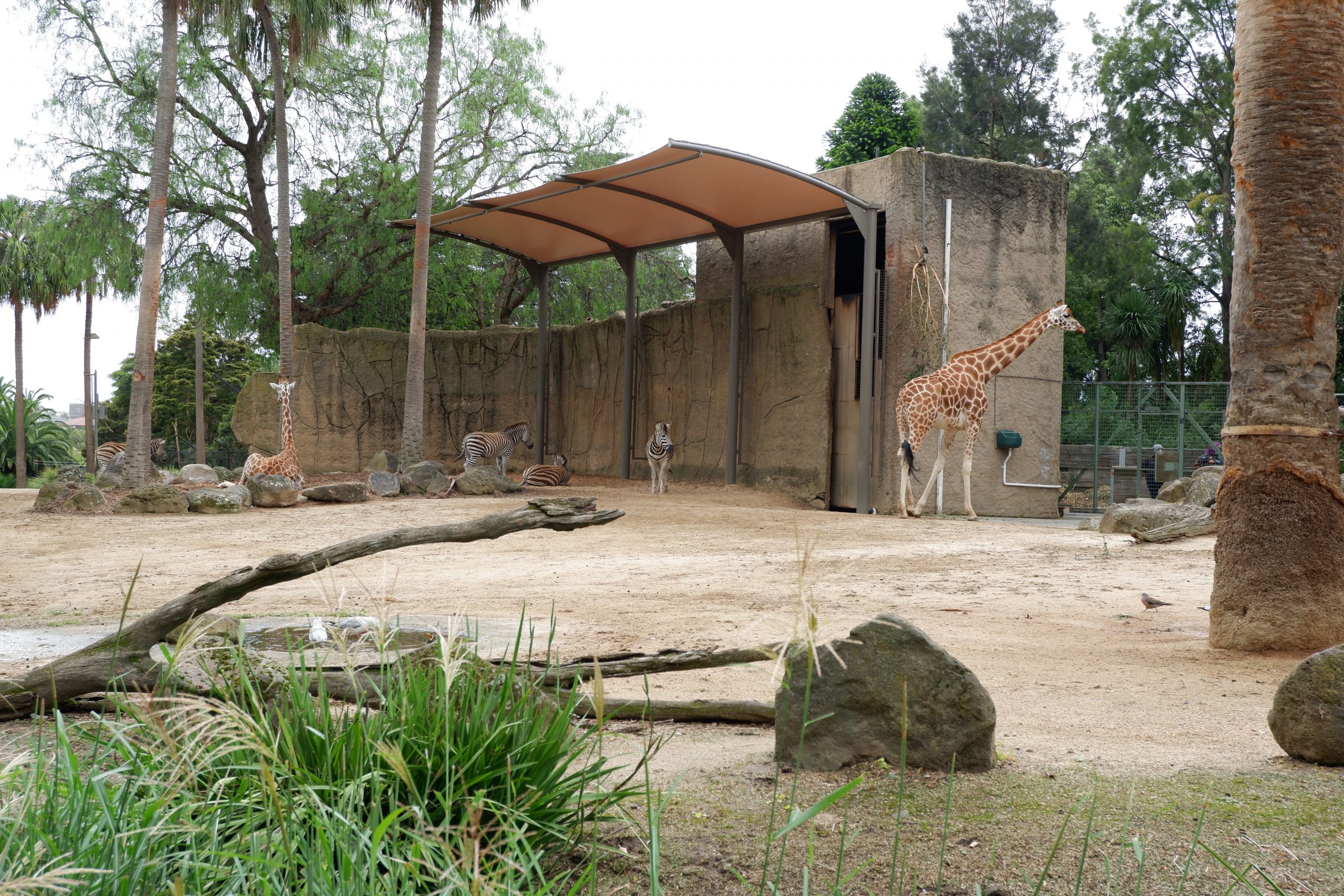 Because we were at the zoo, we had to visit the Red Panda enclosure. It isn't a good trip to the zoo without seeing them. They have to be my most favourite animal, and I find them so cute.
The aquatic section in the middle of the zoo was filled with both Seals and Penguins. We got to spend some time and watch all of the animals swimming around. Unlucky for us they had cancelled the Seal keeper talk for the day. They were cleaning all of the tanks, so we completely understood, but it was still a little bit of a letdown.
One of the most exciting enclosures would have to be the Lemurs. Here you can walk through their enclosure and see them walking in front of you. Of course, you cannot touch them, but you can get decently close to them. It is such an interesting experience being able to do that. Following that we visited the Gorillas. But unfortunately, we couldn't see them until the very end. They were all either hiding or asleep. Its the dice roll that you have to play when you visit the zoo.
We stopped for lunch near the elephant enclosure because it had a nice open area and we wanted to hear the keepers talk. We ended up on the wrong side of the yard from where they talked, but we listened in as best we could. It wasn't long before we decided to move on and keep looking at other animals. The next best part of this section was when we saw the Orangutangs. But this time it was a bit of a pity as they were extremely far away. But it was still nice to be able to see them.
While we were here, we had to visit the animatronic dinosaurs that they had on the show. We had seen them at all of the other major zoos in Melbourne, and we couldn't miss out here. I always love seeing life-like dinosaurs.
The last section we decided to view was the lion area. The best animals in this section were the Lions, Snow Leopards and Tigers. This was the first time that we got to see the Snow Leopard cubs. They were utterly adorable and loved to be with their parents in the high perches.
We took the tram back into the city from the zoo and headed out towards the Carlton area. Here we visited the Store of Requirement. It is a small little store based all towards Harry Potter. It was amazing to be able to see all the little different things related to Harry Potter. It was hard not to buy anything, but I managed not to do it.
The night was finished off by visiting the Elephant and the Wheelbarrow. It was an excellent English style pub. I had to get the chicken parmigiana, and it was delicious. I was there quite a while ago, so it felt nice to go back. It was an excellent way to finish off the night.
Day 3
Today was my birthday. What we had planned was going to make this day our biggest and longest by far. But who doesn't love an activity-packed birthday?
We began the day by heading out for breakfast in St Kilda. I can honestly say it was an amazing egg benedict on hashbrowns. It was so filling that I wasn't able to finish the whole thing.
From there, we walked down to Luna Park. It was going to be the first time that I had been there in years. I was very excited. I absolutely love going to the parks even if they are a little on the smaller side.
We tried to go on every ride that we could. I would say that we got through a decent portion of them. I love going on all of the thrill-seeking rides; I can't seem to get enough of them. There were even a few that we managed to get on a second time. The best part was that even though there were many people there, it didn't feel crowded.
It was a pity that we missed out on the Scenic Railway ride that goes around the entire park. The line was extremely long and wasn't moving no matter what. We suspect it was due to the Covid restrictions they had in place for some of the rides. But it just means that we'll have to come back again sometime and try it out.
I managed to get myself burnt slightly while we were there, that's what you get for being in the summer sun. I'll just have to lather up more with the sunscreen next time.
The next thing on my list for my birthday was dinner with the family. We had decided on an Italian restaurant in the Crown precinct called Baci. It was an excellent restaurant, and I really enjoyed myself there. I always love eating Italian food. Alana and I got one of the pizzas to share because the size was quite large. It was definitely enough to fill both of us.
We finished off my birthday night with visiting an escape room. This was the first-ever time that I had been to one of these places. Most of my family hadn't been to one either, so it would be a great experience for all of us.
The room that we had decided upon was one that was based on the movie Jumanji. It is the type of room that feels good for all ages. While there, we decided it best to divide and conquer, which is precisely what we did. It took us just under 35 minutes to complete. We missed out on the monthly record by just a few minutes. But we thought it was a pretty decent achievement since most of us had never done one before.
It was the best way to finish off my birthday. I can honestly say that I love to spend my birthday jam-packed with activities. These most definitely did not disappoint.
Day 4
The main thing we had planned for today was to visit the Aquarium. this was going to be the first time that I had been here in many years. it had been so long that i couldnt actually remember the last time that i went there.
Our first stop inside the aquarium was to view the circular tank right in front of the restaurant area. There were so many different kinds of fish inside that tank. I could have spent a decent while just watching them go around. It was right next to the crocodile enclosure. Inside was a beast of a saltwater crocodile. It wasn't moving very much, but you could appreciate the sheer size of it.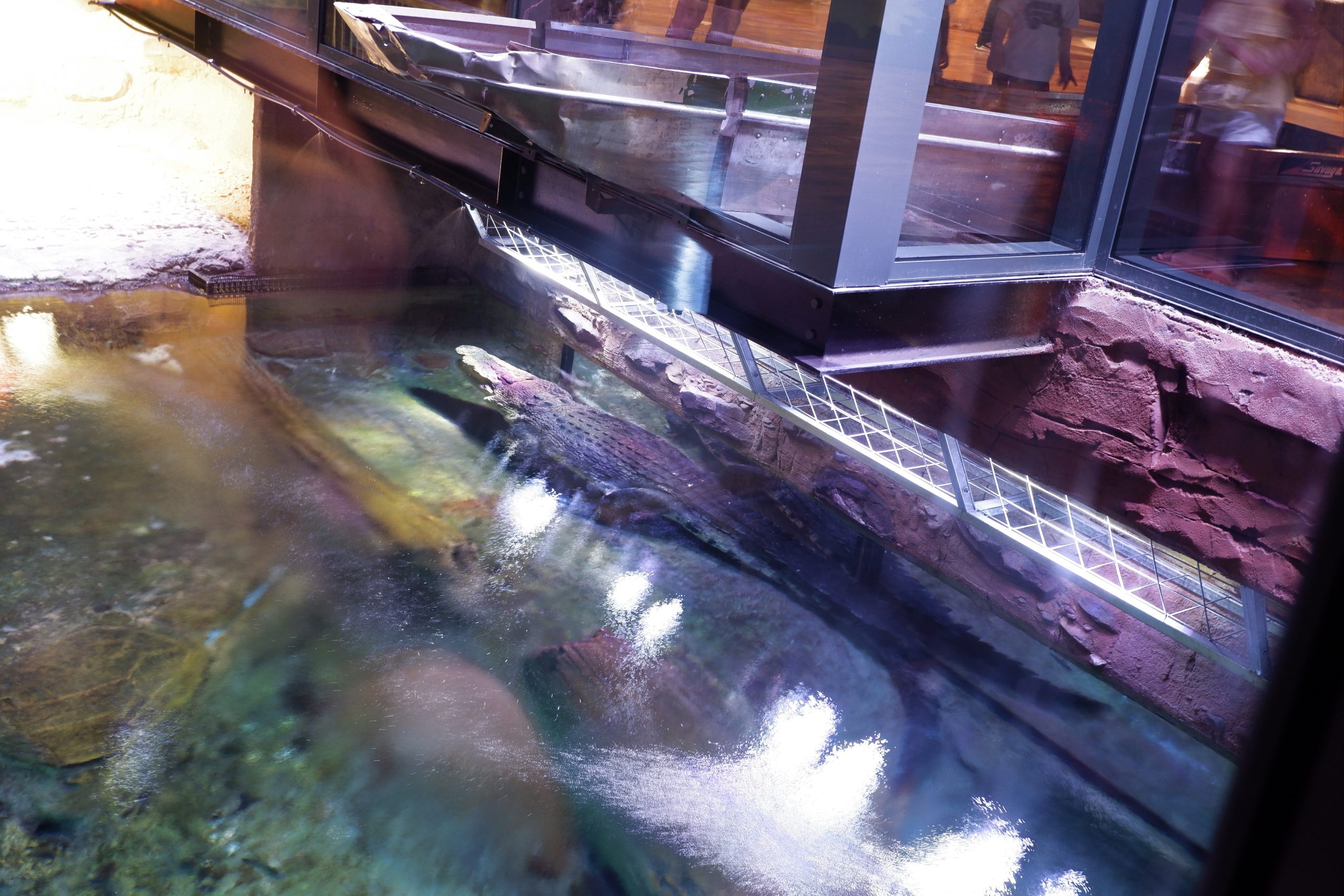 The biggest section by far is the massive tank in the centre of the aquarium; it said that it holds about 2.2 million litres of water. It was filled with all of the bigger fish, rays and a couple of the sharks. You got to walk around and watch them swim above you.
We walked through the invaders of the sea section and got to look at all the different kinds of jellyfish. It was really interesting getting to see each one of them. Some of them are such vibrant colours which are interesting.
We finished off our visit in the aquarium with a visit to the penguin section. here we spent a decent portion of our time. we missed the keeper talk that they were having but we did manage to see them putting fresh ice in the area. they also fed them not long afterwards and each of the penguins jumped into the water and swam around in what looked like formation.
After coming back from the Aquarium, we spent the afternoon relaxing and trying to figure out what we wanted to do for dinner on our last night. We finally decided to try a ramen place down on Russel St next to Chinatown. This place really gave off the feeling of being in a ramen place in Japan. The food was delicious as well, a brilliant place to finish the week in the city off with.
Who could think of a better way to finish both the day and the trip than an evening dip in the hotel pool. Lucky for us we managed to get in when there was no one else around. That had to be the best part. No one around meant we could swim through the entire pool as much as we wanted. It was a whole lot of fun that we didn't want to get out, but we had to as the closing time neared.
Time for home
Today was the day that we had to make our way out of the city and return to my girlfriend's house. It was such a fantastic few days that I didn't want them to end. I always love being a tourist in my city. You almost get to see the whole place in a new light.
After the year we just had, I would have to say that being able to get away for my birthday was an amazing breath of fresh air. I can't wait to do an adventure like this once more.
What to do in Melbourne?
If you're looking for other things to do in Melbourne, why not check out my post that features all the different kinds of things on offer. It is everything that an aspiring tourist could ever want to see in this great city.